Zombie Hunter: Apocalypse
2.4.1
Zombie Game – Kill Zombies Before They Hurt Humans
Do you like FPS games? Is hunting zombies a favorite pastime of yours? If yes, then this zombie game is an ideal one for you. Zombie Hunter Sniper: Shooting Games is a fun game in which you get to shoot down zombies from rooftops and helicopters before they hurt humans. You will find yourself in the middle of the zombie apocalypse in this game. The zombies are everywhere and they are attacking any humans they can lay their hands on. Your job is to keep the humans safe from the undead. To do this, you will have to shoot down the zombies using an arsenal of weapons that are at your disposal. Although this game is very exciting to play, its intrusive nature makes it a threat to your privacy.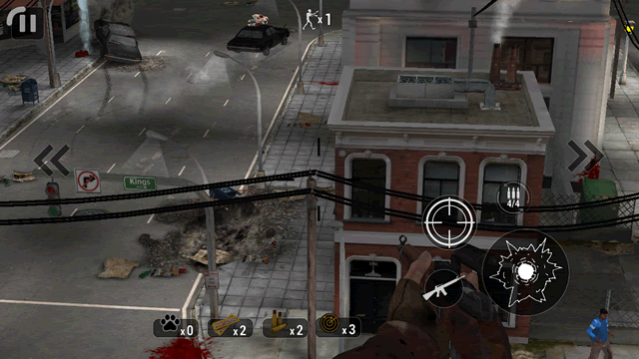 Zombie Hunter Sniper: Shooting Games is not that dissimilar to other FPS zombie games. It has the same engaging gameplay but its graphics are far more advanced. You get to see all the details in the different maps on offer which add to the gameplay experience. The controls of this zombie game are a pretty standard affair. You can move your view from side to side using arrow buttons located on the sides and can locate the zombies by swiping your finger on the left-hand side of the screen. There is an aim button provided to take aim at the target and a fire button to pull the trigger. You will find various options for using the different supplies that you have available located on the screen's bottom-left corner.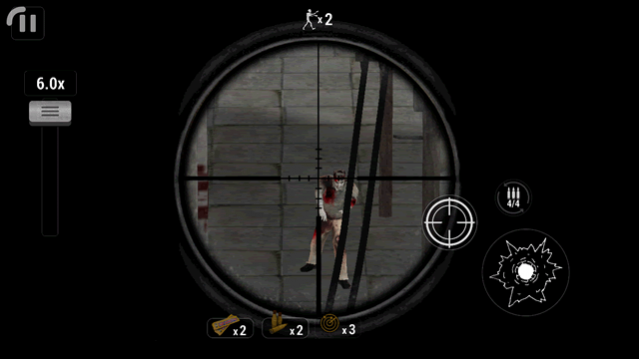 This zombie game offers multiple game modes to you. You have different challenging missions that you need to complete in order to advance to the next part of the game. There are also extra missions which become available after you have leveled up a little. In these missions, you have to take out a specific number of zombies before they can lay a hand on any of the humans. Completing a mission is going to win some prize money for you. You can shoot the zombies anywhere but you will get extra money if you kill them with a headshot. Zombie Hunter Sniper even lets you try out new weapons from time to time too. This mode gets unlocked after you have played some missions.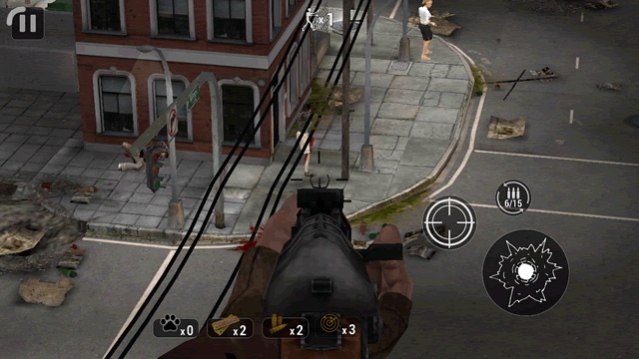 Zombie Hunter Sniper: Shooting Games provides you a variety of different types of zombies for you to take out. Some zombies are easier to kill while others require multiple shots to bring down. In order to kill these super zombies, this zombie game offers lots of different sniper rifles to you. These rifles are the primary weapons which you can use for killing zombies. You can upgrade your existing rifles to make them more powerful or buy new ones from the store section. There are machine guns available too which would serve as your secondary weapon. You can upgrade them too and use them for killing zombies quickly.
Features:
Multiple game modes
Lots of different sniper rifles to choose from
Various machines guns and weapons on offer
Upgrade your weapons to make them powerful
Lots of challenging missions to complete
Shoot down zombies quickly before they hurt humans
Multiple types of zombies to shoot down
Test out new weapons frequently
Different supplies to help you kill zombies
Take headshots to earn more money
A limited amount of energy available
Conclusion:
Zombie Hunter Sniper: Shooting Games is a gaming app which is aimed towards people who have an interest in shooting down zombies. It offers them a whole arsenal of guns and weapons to take out the zombies before they are able to hurt the human population. While it is a little intrusive, it is still an excellent zombie game to have on your phone that can keep you entertained on long trips.
---
Add a review
Tell us your experience with
Zombie Hunter: Apocalypse
2.4.1
RELATED PROGRAMS
Our Recommendations
---
---
---
---